Bulk Custom Screen Printed Aluminum Signs
Decide on the size of the sign. The sign can be printed on an aluminum rectangle of any size up to 48" x 24".These signs will not have to be replaced for at least 25 years. Why would anyone want to replace signage before they have to? We solvent screen print metal signs with an ink that the ink manufacturer says is 4x as durable outdoors as oil-based enamel. WE BAKE IT AT UP TO 400 DEGREES. THERE IS NO WAY A DIGITAL-PRINTED SIGN OR EVEN A UV SCREEN PRINTED SIGN CAN COMPETE FOR LONGEVITY OUTDOORS. If you need standard OSHA or ANSI signs, click here. For one-of-a-kind metal signs, Anytime Sign has a proprietary manufacturing process called PermaEtch™, which uses the same long-lasting 400 degree baked ink we use for solvent screen printed signs.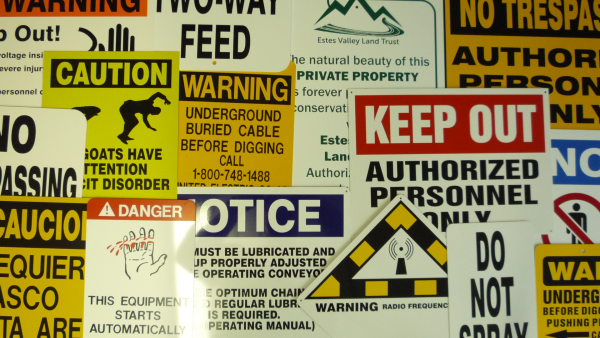 Metal signs can be installed with screws or 50 year silicone glue. Signs can be made with any combination of colors that have a 25 year plus outdoor life. If you need a reflective background, we can make it with the highest quality 3M reflective sheeting, but it will not last 25 plus years.
| | |
| --- | --- |
| This may surprise you, but many outdoor signs that are sold on the internet are digitally printed. Look carefully at what they say about outdoor longevity. One of the biggest sellers admits "5 years". If you only need a sign to last 5 years, buy digital. They look beautiful for a few years, and they're less expensive because they can be made quickly and shipped out within 24 hours. But if you want a permanent outdoor sign, buy from us.We solvent screen print our metal signs and bake them at 400 degrees. WHY SOLVENT SCREEN PRINTING IS BEST | |
Other Products CLICK ON BUTTONS FOR INFORMATION