Metal Building Peak Signs
Replace your faded peak signs and decals with
Akzo Nobel 40 year (or Sherwin-Williams 40 year) coated, 400 degree baked solvent screen printed
29 gauge steel signs from Anytime Sign.
Most metal buildings have no advertising identification.
Millions of dollars of potential POINT OF PURCHASE advertising is wasted for lack of an $10.31 sign.
And then there are the cheap signs and decals that fade and self-destruct after a few years...
BEFORE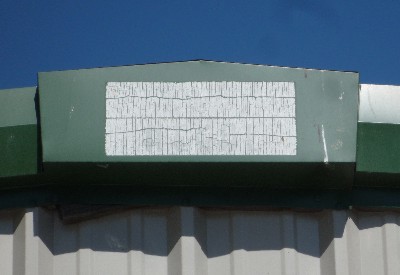 Believe is or not, this decal is the only advertising the builder put on the peak of one of our buildings.
Within a year of the install (1999), the decal began to fade. Soon it was impossible to read.
Today, 14 years later, the decal looked like toilet tissue.
AFTER

Our signs are made of 40 year warranted 29 gauge steel.
We use a 400 degree baked on solvent screen print ink.
The black of which will not fade in 40 years.
Some of the other colors will begin to fade after many years, but will still be legible.
| | |
| --- | --- |
| This may surprise you, but many outdoor signs that are sold on the internet are digitally printed. Look carefully at what they say about outdoor longevity. One of the biggest sellers admits "5 years". If you only need a sign to last 5 years, buy digital. They look beautiful for a few years, and they're less expensive because they can be made quickly and shipped out within 24 hours. But if you want a permanent outdoor sign, buy from us.We solvent screen print our metal signs and bake them at 400 degrees. WHY SOLVENT SCREEN PRINTING IS BEST | |

Our standard sign is is 15" x 5.75"
When you purchase 25 signs they are $10.31 each.
You get up to 2 colors printed on white for that price.
We offer quantity pricing, please request a quote for larger quantities.
Simple art is free. Complex art and additional colors add to the price.
For a fee we can match any color, including the background color.
A custom mixed color may not be neccesary, we can send sample color swatches
of our mixed colors at your request.
Call Patrick at 1-800-582-1554 or fax us at 1-870-895-3229
or email ART to us at sales@anytimesign.com
If you need a printed sample, we can make you a PermaEtch™ Peak Sign. It will be made of the same materials as our solvent screen printed signs and also baked at up to 400 degrees, so you can use it with the same confidence as our solvent screen printed signs.

The cost would be $20 plus shipping for a 1 color standard size peak sign sample and $30 plus shipping for a 2 color standard peak sign sample.

Click here to view a video where the PermaEtch™ Sign shown here is given a cross-hatch test and a scratch test to prove that PermaEtch™ signs perform the same as our solvent screen printed signs baked at up to 400 degrees.
Other Products CLICK ON BUTTONS FOR INFORMATION