U-SELECT-IT CANDY MACHINE
Highest Quality Aluminum Signs that will not scratch or wear
Send us an EMAIL or call 1-800-582-1554 and ask Sarah for ways of sending custom art and color sample if needed.

Sending us a photo of your original plate along with measurements is the best way to ensure that you get the right plaque.

CHOOSE RED, MAROON, BLUE OR BLACK

All candy machine plaques are not the same, the ones pictured here are only examples.
There are 5 cent or 10 cent machines.
Some 5 cent machines say "select the package" and some say "select the candy bar"
Some 10 cent machines use 2 nickles or 1 dime and some are dimes only.
Some plaques (#2) do not have the arrow for the coin return at the bottom and are shorter.
Some plaques (#1) say "CANDY BAR MACHINE" and some say "AUTOMATIC VENDORS".
1) 6" X 2.5"X .025" ALUMINUM
2) 2.3" X 7" X .025" ALUMINUM
3) 1.5" X 2" X .025" ALUMINUM

$85 for the set of three plaques as shown. Shipping via Priority Mail for $10.50
WE DO NOT DRILL HOLES IN THESE PLAQUES!!
If you would like us to add a strong 3M adhesive to the backs of the plaques is is $1.50 per plaque.
These aluminum plaques are solvent screen printed (best quality) with 400 degree baked ink that will not scratch off, fade or chalk- rated for at least 50 years of aggressive wear and cleaning, and then CUSTOM LASER CUT with YOUR image.
SPECIAL COLORS ( OTHER THAN THE ONES LISTED ABOVE) ARE AVAILABLE FOR A ONE TIME CHARGE OF $45 (you will need to give us a Pantone number of provide a sample of the color)
Major changes to artwork or size may incur an art fee. Slight changes to wording or size will not affect the price.
Please contact us at 1-800-582-1554 for a definite price.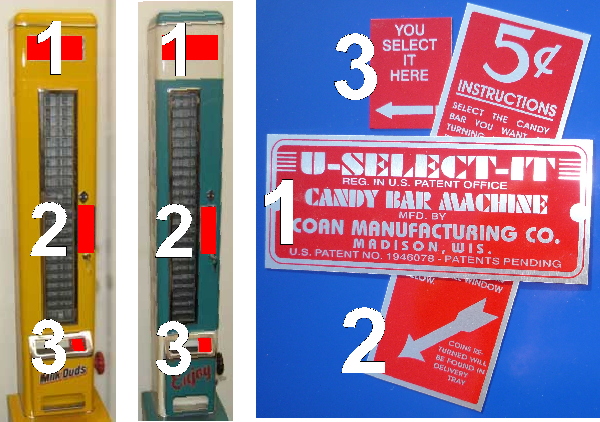 Other Products CLICK ON BUTTONS FOR INFORMATION