REPEAL OBAMACARE
Wholesale Bumper Stickers
Wholesale Prices. Bulk Quantities. Large Quantity Screen Printing means they are cheap enough to give away. Removable Quality Vinyl bumper stickers mean you have no worries about removal and these stickers will not damage your vehicle.

We Screen Print our removable Bumper Stickers with the best quality
solvent based inks, for the longest lasting outdoor print available.
The printing on these bumper sticker will not fade or scratch off.

For the maximum quantity discount, if you wish to purchase multiple colors:
Type the total quantity of bumper stickers in the multiple colors box
and let us know the quantities of each color you want in the notes section at checkout.
QUANTITY PRICING
| | | | | | | | |
| --- | --- | --- | --- | --- | --- | --- | --- |
| QUANTITY | 1-4 | 5-9 | 10-24 | 25-49 | 50-99 | 100+ | 1000 |
| PRICE PER BUMPER STICKER | $3 | $1.33 | $1.05 | 58¢ | 49¢ | 39¢ | 29¢ |
FREE SHIPPING: FIRST CLASS MAIL QTY 1-100 UPS QTY 100+
For CREDIT CARD payments, just click
"Don't have a Paypal Account?",
when you get to the Paypal Payments portion of check out and the credit card option will open up.
Buy now online or call during business hours to place an order
Anytime Sign 800-582-1554
Type the quantity in the box.
Click ADD TO CART.

VIEW CART


Removable Bumper Stickers Promotional White Vinyl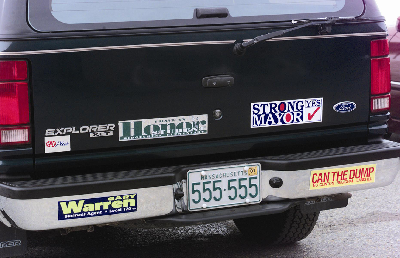 Bumper stickers are most often utilized by businesses for promotional purposes, groups expressing a point-of-view or cause or a political campaign promoting a candidate. Radio station promotions, political messages, school and event promotions are typical applications. Our removable bumper stickers are printed on FLEXmark PWVR (Promotional White Vinyl Removable). FLEXmark PWVR is a 3.25 Mil flexible white vinyl that provides durability and easy installation. The pressure-sensitive acrylic adhesive bonds well to a variety of surfaces including chrome-coated surfaces and painted plastic. The most important feature of this material is that it is easily removable for up to six months after application. The six month removability makes your bumper stickers hassle free and totally temporary should you wish, but adhesive is also rated for two years out doors, should your cause need more time.
We Screen Print our removable Bumper Stickers with outdoor screen print ink so they will not fade or scratch like digital printed bumper stickers.
Pricing below is for 12"x 3" CUSTOM bumper stickers with one color printed on white, please contact us for a quote on additional colors, custom sizes and special die cut shapes. sales@anytimesign.com
| | | | | | | | |
| --- | --- | --- | --- | --- | --- | --- | --- |
| SIZE | 25-49 | 50-99 | 100-199 | 200-299 | 300-399 | 400-499 | 500+ |
| 12" x 3" | 2.35 | 1.50 | 79 cents | 71 cents | 63 cents | 59 cents | 55 cents |
Other Products CLICK ON BUTTONS FOR INFORMATION