Clear Removable Vinyl Bumper Sticker Car Protector Decals 12" x 4"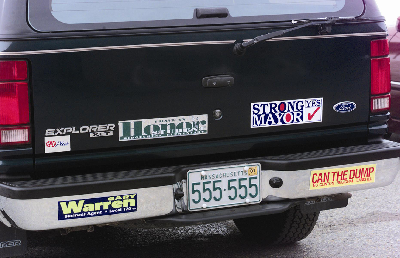 12" x 4" REMOVABLE VINYL BUMPER STICKER CAR PROTECTORS

Some of the neatest bumper stickers are made of the lowest quality materials.
You would be concerned to place them on your vehicle, especially if you don't want them on there forever.
If you want to support a cause without any chance of ruining your vehicle you can purchase these blank pieces of REMOVABLE vinyl.
Just place your bumper sticker onto the removable vinyl bumper sticker car protector and stick it to your car.
The six month removability makes your bumper stickers hassle free and totally temporary should you wish, but adhesive is also rated for two years out doors, should your cause need more time.
The removable vinyl decals can also be cut up and used with smaller stickers. 12"x4" should be large enough to accommodate most bumper stickers.
If you have a extra large sticker you could use multiple stickers, just stick them next to each other and place your bumper sticker on top.
We can custom cut bumper sticker protectors, please contact us for a quote on custom sizes and special die cut shapes. sales@anytimesign.com
| | |
| --- | --- |
| | UPC 047393695666 |
Other Products CLICK ON BUTTONS FOR INFORMATION