RED CROSS MAGNETIC SIGNS

This is not your typical refrigerator or memory ribbon magnetic; this is extra durable 30 mil Durabond TM magnetic vinyl sheeting. The Red Cross is solvent screen printed using the best quality outdoor inks for the longest lasting outdoor life possible. These magnetic signs are MUCH less likely to blow off at highway speeds, because the durable image is solvent screen printed, so it does not need a clear overlaminate as is the case with the digital printed magnetic signs you find of Ebay, Amazon and most internet websites. Clear overlaminate makes the magnet stiff, so it does not easily conform to the vehicle surface, making it much more likely to blow off at highway speeds, and especially in cold weather.
Magnetic signs should be put on a clean flat metal surface (no plastic filler, bondo). When vehicle is cleaned, they should be removed and backs wiped before applying to dry vehicle. Magnetics should not be placed on a vehicle under 55 degrees F., but once they are on, they will stay on in freezing conditions.
Test your vehicle with a refrigerator magnet to make sure magnetic signs will work on you vehicle. Some vehicles are being made with aluminum, not steel. If you vehicle is made with aluminum, we also offer the best quality solvent screen printed removable white vinyl decals. These decals are Car Safe and Durable for years outdoors, but can be easily removed within 6 months of installation.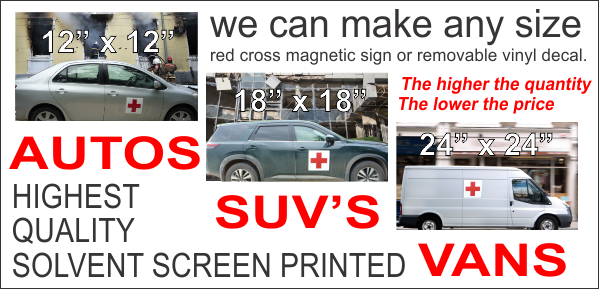 If you have larger vehicles that are used regularly at Red Cross events, please consider our aluminum 24" x 24" signs that slide into a permanent frame mounted on the vehicle. The red cross is 22" x 22", solvent screen printed on a white .080" thick aluminum, so it is not flexible, and there is no way it can come out of the frame during transit.

IN HOSTILE AREAS, THE RED CROSS CAN BE QUICKLY TURNED OVER TO SHOW ONLY A WHITE BLANK OR A LOGO FOR UNDRO, HRO, DRO, IIRO, CARE, WR, ETC. AFTER YOU LEAVE THE HOSTILE AREA, YOU CAN QUICKLY FLIP THE SIGN TO SHOW THE RED CROSS.

When the vehicle is not being used for Red Cross Emergency events, the sign can be flipped over to become just a white blank, or we can print a custom message such as "Donate Blood at your local blood Bank", or even a full color advertisement for which you can charge rent.

The red cross is solvent screen printed and baked at 400 degrees, so it will last longer than the vehicle, and you will be able to move the frame and sign to the replacement vehicle. Consider how many magnetic signs you have gone through in the past and you may find the permanent frame system will save your company a great deal of money and hassle.

TURN THE RED CROSSSIGN OVER IN DANGEROUS TERRITORY.
12" x 12" red on white magnetic sign with rounded corners

Our Red Cross magnetic signs are a quick and easy way for military, paramedic and emergency response vehicles to identify themselves.

Also great for public advents, use to mark
first aid vehicles so people can quickly see where to go for help.
QUANTITY PRICING, WHEN YOU PURCHASE MORE THE PRICE PER SIGN GOES DOWN.
$15 shipping will be added to your order for this item, regardless of the quantity that you order.
| | | | |
| --- | --- | --- | --- |
| SIZE | 1-10 SIGNS | 11-30 SIGNS | 31-50 SIGNS |
| 12" X 12" | 10.64 | 9.31 | 7.32 |
| | |
| --- | --- |
| | TYPE DESIRED QUANTITY AND CLICK ADD TO CART |

Other Products CLICK ON BUTTONS FOR INFORMATION