Vinyl letters on Polycarbonate patch blanks.
These patches are NOT IR, for IR solas call signs CLICK HERE
AOR2

AOR1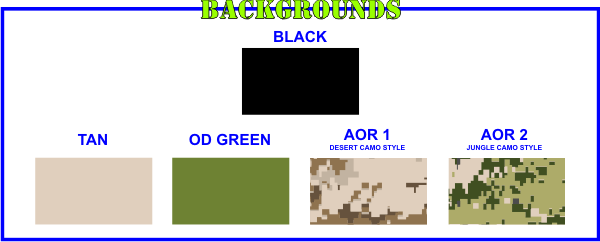 Choose your color of lettering.
QUANTITY

1-9

10-24
25-49
50
PRICE
PER PATCH
$12.42
$8.74
$7.24
$6.63
PCX CALL SIGNS 3.5" X 2"
UNIQUE POLYCARBONATE PATCHES,
HAND MADE WITH
MATT FINISH VINYL LETTERING.

Call Sign quantity pricing is for the total number of patches ordered with the same combination.
If you wish to order several combinations please call to place your order, in order to get the proper discount price.
FREE SHIPPING
First class mail for 1-13 qty and
UPS shipping for 14 or more

HOW TO ORDER CUSTOM PATCHES
| | |
| --- | --- |
| For CREDIT CARD payments, just click "Don't have a Paypal Account?", when you get to the Paypal Payments portion of check out and the credit card option will open up. | |
Type the quantity in the box.
Click ADD TO CART.

VIEW CART

Buy now online
or call during business hours
to place an order
Anytime Sign 800-582-1554


STENCIL BT TYPE
OD GREEN LETTERS

STANDARD TYPE
TAN LETTERS

STENCIL SANS TYPE
WHITE LETTERS


AOR1 DESERT CAMO
STYLE BACKGROUND
STANDARD TYPE


AOR2 JUNGLE CAMO
STYLE BACKGROUND
STENCIL BT TYPE

TAN BACKGROUND
STANDARD TYPE

GREEN BACKGROUND
STENCIL BT TYPE
You can select any combination of background, typestyle and lettering color.
Examples above are only a guide.
Call Sign pricing is for the total number of patches ordered with the same combination.

You can get any letters you want provided they fit on the patch.

Layouts will be emailed for your approval before they are made.

EXAMPLE:
2 each - HRT 42
3 each - HRT 31
5 each - HRT 1
10 each - HRT 9
1 each - HRT 17
4 each - HRT 2
TOTAL = 25 PATCHES
CLICK HERE FOR LINKS TO MORE PATCHES
Other Products CLICK ON BUTTONS FOR INFORMATION