Infrared Perimeter Two-Sided Tape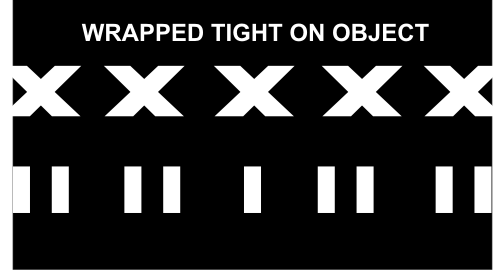 Infrared Perimeter Tape (2-sided) comes in 4 different widths x 10ft rolls
3/8" IR Perimeter Tape (2-sided) 10ft roll: $20 UPC# 047393695499

1/2" IR Perimeter Tape (2-sided) 10ft roll: $24 UPC# 047393695505
1" IR Perimeter Tape (2-sided) 10ft roll:: $34 UPC# 047393695512
2" IR Perimeter Tape (2-sided) 10ft roll: $64 UPC# 047393695529

$8.00 Priority Mail for the first item, free for additional items.
We ship to APO's
The term "Trip Wire" is used to convey a specific use of the product. The product contains no wire or any metal. The product is FLAT AND TWO-SIDED. The larger the size, the more visible with night vision. Although the product is two-sided, unless it is twisted, it is possible it could be entirely viewed from the edge, which would make it invisible under night vision. IF YOU WANT TRADITIONAL INFRARED COPPER TRIP WIRE, CLICK HERE.
3/8" IR Perimeter (two-Sided) Tape breaks at 20 lbs. and is clearly visible with night vision at 10ft
1/2" IR Perimeter (two-Sided) Tape breaks at 30 lbs. and is clearly visible with night vision at 15ft
1" IR Perimeter (two-Sided) Tape breaks at 60 lbs. and is clearly visible with night vision at 30ft
2" IR Perimeter (two-Sided) Tape breaks at 140 lbs. and is clearly visible with night vision at 30ft
There are many applications that would benefit from Infrared marking:
IR Trip Wire
IR Perimeter Tape
IR Marking tape
IR Trail marker
IR Pole Marker


FOR DETAILED INFORMATION ABOUT
MAGIC BLACK PRODUCTS CLICK HERE

Call during business hours to place an order
Anytime Sign 800-582-1554
Other Products CLICK ON BUTTONS FOR INFORMATION