Anytime Sign Table Top Display for GUN signs and decals
Retailers can sell signs and decals with this attractive table top display. It takes up just 5" x 8.5" of counter space and can be put on top of low risers.
OVER 100% MARKUP!
FREE DISPLAY WITH $25
PURCHASE
8.5" x 11" Self-Standing Display sits on counter

* 50 2.25" x 2.25" Reflective Decals on hook 50 x .25 =$12.50
* 25 5" x 6.25" Plastic Signs behind Display 25 x .50 = $12.50
Self-Standing Display becomes property of store if you purchase
$25.00 worth of merchandise

PROTECTED BY GUN
SIGNS AND REFLECTIVE DECALS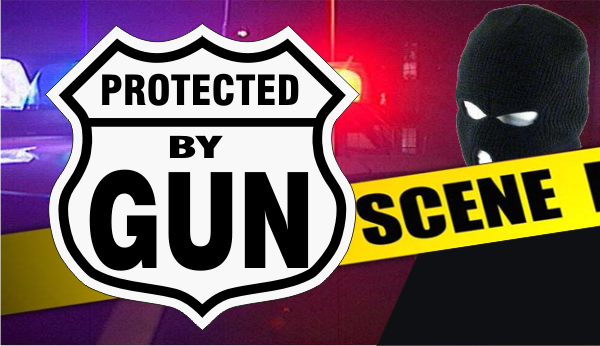 PROTECTED BY GUN
REFLECTIVE DECALS - 2.25"x 2.25"

3200 3M Engineer Grade Scotchlite screen printed with 3M solvent ink and die cut.
This is highest quality printing available on an outdoor product that is guaranteed to last.


5" Wide x 6.25" Tall
SECURITY SYSTEM
PROTECTED BY GUN
PLASTIC SIGN
Plastic signs made of
.055" thick white polyethylene
which will not tear, scratch, yellow or get brittle with age. These signs can take quite a bit of abuse without being damaged. You can use plastic or metal ties without fear of tearing the sign. They are printed with screen printing (the most durable form of printing).
We use the highest quality exterior solvent inks for the longest outdoor life.

CLICK HERE TO SEE OUR REFLECTIVE ROAD SIGN DECALS

ROUTE 66, CALIFORNIA 395, CALIFORNIA 50, CALIFORNIA 66, CALIFORNIA 101
CLICK HERE to go to 3M 3200 Engineer Grade Reflective Pinstripe
Available in 6 colors, white, blue, red, yellow, green and orange.
Four sizes 1/4", 1/2", 3/4" and 1" wide x 25 feet long rolls.

CLICK HERE to go to 3M Black Reflective 680
CLICK HERE to go to 3M Reflective SOLAS Pinstripe
Other Products CLICK ON BUTTONS FOR INFORMATION