Bilingual Danger Explosive Disposal Area sign

24" x 36" x .080" aluminum

Highest Quality Aluminum Sign that will not scratch or wear


This permanent OSHA outdoor sign is made of thick .080" aluminum (the same thickness used for highway signs) and printed with
solvent screen printing with a 400 degree baked ink (the black doesn't fade for 40 years). The OSHA header is DANGER in English
and PELIGRO in Spanish. The message is EXPLOSIVE DISPOSAL AREA KEEP OUT in English and
AREA DE DESACTIVACION EXPLOSIVA MANTENGASE AFUERA in Spanish .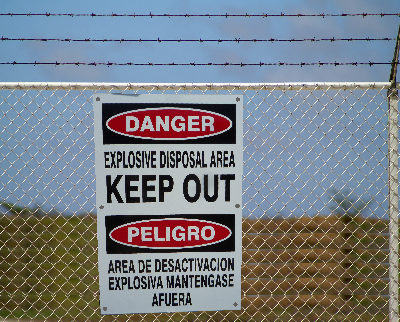 Other Products CLICK ON BUTTONS FOR INFORMATION