The Benefits of Sequentially Numbering Inspection Decals

Sequentially numbering inspection decals can offer several benefits. Here are some advantages of using sequential numbering for inspection decals:
Easy identification and tracking: Sequential numbering allows for easy identification and tracking of inspection decals. Each decal is assigned a unique number, making it simple to locate and keep records of individual decals.

Organized record-keeping: Sequential numbering facilitates organized record-keeping of inspections. By correlating the decal number with relevant inspection data, it becomes easier to maintain a comprehensive log of inspections performed, their results, and any associated information.

Enhanced accountability: Sequential numbering helps enhance accountability in inspection processes. By assigning a unique number to each decal, it becomes possible to track which inspector conducted a particular inspection and when it took place. This information can be valuable for quality control, regulatory compliance, and resolving any disputes or issues that may arise.

Detection of anomalies or gaps: Sequential numbering can assist in identifying anomalies or gaps in the inspection process. If there is a missing or skipped decal number, it may indicate a potential oversight or non-compliance. This can prompt a review of the inspection records and ensure that all inspections are carried out as required.

Improved maintenance and safety: Sequential numbering aids in maintenance and safety management. It helps ensure that inspections are conducted regularly and in a timely manner. By monitoring the sequence of decal numbers, organizations can identify any overdue inspections and take appropriate action to rectify potential safety risks promptly.

Streamlined communication: Sequential numbering simplifies communication between different stakeholders involved in inspections. By referring to decal numbers, inspectors, supervisors, and other relevant parties can easily communicate about specific inspections, making it easier to exchange information, coordinate actions, and address any concerns or inquiries.

Facilitates audits and compliance: Sequential numbering supports audit processes and regulatory compliance. It enables auditors to quickly verify the presence and validity of inspection decals, ensuring that necessary inspections have been completed and that the appropriate documentation is in order.
Overall, the benefits of sequentially numbering inspection decals include improved organization, accountability, safety, communication, and compliance, making it a valuable practice in many inspection-related operations.
Example of a sequentially numbered Inspection Decal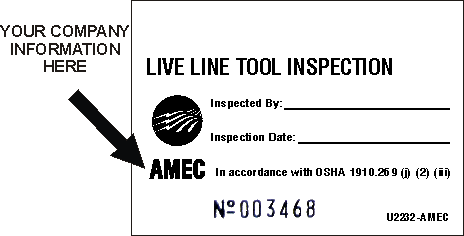 Screen Printed on White Mylar with the best quality solvent based ink.
Comes with attached Clear Mylar protective cover and Easy 3.25" X 2.3"



Sequentially numbered for Record Keeping and Identification



Write in Inspection information



Cover writing with durable protective mylar.



Slit backing for easy peel and installation.

Long lasting screen printed mylar decal with Sequential numbering
| | | | | |
| --- | --- | --- | --- | --- |
| QUANTITY | 100 | 250 | 500 | 1,000 |
| PRICE PER DECAL | 7.07 | 2.99 | 1.58 | .89 |
Smaller quantities are so high because of the various set ups involved with this product. These decals are screen printed, die cut for the slit backing , laminated with the mylar proctective layer, die cut a second time and then they are hand stamped individually. If you are needing a smaller quantity, let us know, we may be able to supply you with a less expensive option such as digitally printed decals.
Email us with your company information for a free layout and sample decal. sales@anytimesign.com


CLICK TO GO TO VEHICLE INSPECTION DECALS

CLICK TO GO TO GROUND SET INSPECTION DECALS

Other Products CLICK ON BUTTONS FOR INFORMATION